What is the Dark Alliance?

The dark Alliance is an amalgamation of different 'dark sites' of the cyberspace.
The joining together extends far beyond just linking each other or a webring, allthough such is offered! We plan and organize different projects like the Dark Dictionary, and exchange information to different themes from the areas mythologies, religions, philosophies of life or Gothic-Culture. The Dark Alliance is no belligerent or agressive union, but still members help each other, should they have conflicts!

Homepage of the Dark Alliance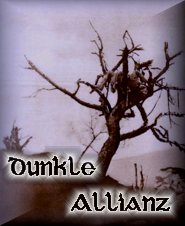 Projects of the Dark Alliance


Dark Dictionary